Cross-posted at Bitch Flicks, where I will be blogging every Monday for the foreseeable future. Awesomeness.
The fourteen episodes of Armando Iannucci's brilliant BBC show
The Thick Of It
appeared on Hulu a couple of weeks ago, and the upcoming fourth season will stream there as well. I am having a bafflingly hard time convincing even my most devoted Anglophile friends to watch it. Maybe the pace and intensity are off-putting: it's a show that demands your full, rapt attention to decipher its rapid-fire dialogue (and British accents, if that's a difficulty for you). Maybe the unrelenting cynicism is discouraging for my starry-eyed friends (I know a LOT of Aaron Sorkin devotees). Maybe the Westminster setting is daunting to Americans who assume that familiarity with the ins and outs of UK politics is a prerequisite, when in reality all a non-Brit would miss are throwaway jokes about odds and ends of British culture (Mark Kermode's flappy hands, anyone?). Whatever it is that's giving people pause, I wish they'd overcome it, because this is a really, really good TV show.
As a cynical comedy about the relationship between a hapless government minister and a Machiavellian civil servant,
The Thick Of It
is naturally a spiritual successor to excellent 1980s sitcom
Yes Minister
– but it is a very 21st-century successor. The archly satirical wit of
Yes Minister
isn't wholly absent from from
The Thick Of It
, but it is rather overshadowed by, well, the gloriously colorful and endlessly creative obscenity. A viewer conducting even the most casual compare-and-contrast of the two series will notice two interesting trends:
1. Twenty-first-century Westminster is no less white than 1980s Westminster. This, unfortunately, is a reflection of reality: people of color currently comprise 4% of MPs (a figure that was significantly lower when
The Thick Of It
began in 2005), and Parliament's own website admits that even though "[t]he House of Commons is more reflective of the population it represents than ever before […] it remains the case that more than 400 MPs, 62% of the total, are white men aged over 40."
2. There is a far wider variety of accents, and a hell of a lot more swearing, in the newer show. This is something that cannot be explained without a brief discussion of the deeply complex question of class in British politics, so please bear with me. UK politics has always been an old boys' club. The traditional track to Westminster runs through a private school, ideally Eton, and a top-tier university, ideally Oxbridge. That same Parliament webpage notes that over a quarter of current MPs went to Oxbridge, and over a third went to private schools. This is vastly disproportionate to the general population – but it
is
an improvement over the past. In 1982
Yes Minister
could include lengthy rants about Greek and Latin quotations and jokes mocking a minister who attended the LSE; one suspects that that simply wouldn't fly today.
The delicate subtleties of regional accents in the UK are far beyond my capacity to explain; suffice it to say that, first, regional accents are historically the marker of a working-class background, and, second, they are much more acceptable in politics and media today than they were 30 years ago. There is, then, a more or less explicit class dynamic at play in
The Thick Of It
between the RP-accented ministers and the very Scottish Peter Capaldi, who stars as very terrifying government spin doctor Malcolm Tucker.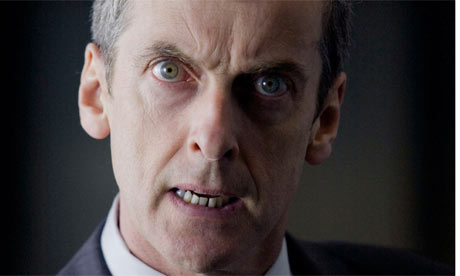 Good God this man is terrifying.
Malcolm is the core of the show, and he is a wonder to behold. In creating Malcolm Tucker, Iannucci seems to have drawn from both his own Scottish heritage and from the well of "terrifying Scot" archetypes that populate the British imagination: from Wallace bellowing "FREEDOM!" to Miss Jean Brodie to Professor McGonagall to the monstrous Manda in Alan Warner's
The Stars In The Bright Sky
(get a copy; you'll thank me later), echoed in US pop culture through figures like Groundskeeper Willie and Shrek. An explosive hurricane of Caledonian fury, Malcolm tears through Westminster, bullying, threatening, effing, blinding, and occasionally punching anyone unfortunate enough to oppose his will. He's the kind of villain who's an absolute joy to hate, reveling in his own evil machinations and spouting quotable profanity like it's going out of style.
Not that the other characters lack for memorable quotes. The writing for this show reminds me of Oscar Wilde (in a potty-mouthed, 21st-century kind of way): all the characters essentially speak with exactly the same voice, but it's such a very funny voice that nobody really minds. And, of course, a great strength of this style is that the women characters sound as though they were written to be characters first, women second. Our culture is swimming in female characters who sounds as if they were written by someone who, at best, has never actually interacted with a woman, and, at worst, genuinely believes women to be a completely different species than human beings. Armando Iannucci's women are not like this at all, and it's depressing how refreshing that is.
In my opinion,
The Thick Of It
only really hits its stride with the introduction of Rebecca Front as Nicola Murray, MP, in the third season. (The first two were only three episodes each, so that's still more than half the show that she's in.) This was a matter of necessity, owing to Chris Langham's ignominious fall from public grace, but it gives the show a dynamic it really needs. When Langham's Hugh Abbott was the hapless minister struggling to hang onto his job in the face of mockery from special advisers Glen and Ollie and relentless terrorism from Malcolm, the cast was just
too
homogeneous. Nicola has to deal with not only the pressures Hugh faced as an overworked, underprepared, perpetually outgunned minister trying desperately to be relevant; but she also has to cope with the specific challenges of being a woman in a job that is still 78% male-dominated. Dubbed a "glummy mummy" by the press, Nicola is caught in the damned-if-you-do, damned-if-you-don't position of the woman in the high-pressure job – expected to prioritize her work while simultaneously being the World's Greatest Mother, in a way that men are simply never expected to do. Being at the nexus of such impossible expectations never overwhelms Nicola's character or turns her into a straw person of any kind, but it is a constant presence in the dynamic of her interactions with others, to the point that even the ferocious Malcolm appears to have a little sympathy for her.
Poor Nicola.
Iannucci seems to have recognized how interesting this dynamic is, and attempted to replicate it this year in his HBO show
Veep
, starring Julia Louis-Dreyfus as a (once again) hapless vice president.
Veep
is an intriguing attempt to transplant the magic of
The Thick Of It
to a US context (foreshadowed to some extent in the transatlantic hijinks of 2009 alternate-universe spin-off film
In The Loop
), but I'm not yet convinced that it's a fully successful one. For one thing, the US televisual landscape is so prudish that even on HBO the swears don't roll off tongues as organically as on British TV. For another, the lack of a truly nefarious Malcolm Tucker figure, while an understandable artistic choice to create distance from
The Thick Of It
, in my opinion undermines the show's cohesiveness. And I question the wisdom of choosing to piss away a potentially really interesting pregnancy subplot offscreen.
My reservations notwithstanding, I will be watching
Veep
's second season, because it's pretty funny, and because I trust Armando Iannucci. But I'm much more excited for
The Thick Of It
season four, and it would be nice if the rest of America cared too.